Hi World!!!
The most memorable moment of my summer vacation was when I went to the island of São Miguel in Azores because I went with a group of friends and family and had a lot of fun. São Miguel is the biggest island of the archipelago of Azores. All the nine islands of the Azores Archipelago are of volcanic origin and are located in the North Atlantic.
I really enjoyed being in São Miguel, it is a very beautiful island, still wild, with many lush green spaces and I have visited many interesting and impressive places such as the lagoon of the Seven Cities and the Terra Nostra park.
The beach has an interesting feature because the sand is "black". Every day we went to the beach, I went sailing and it was a unique experience.
The last day arrived and we returned home, but the vacations continued and I travelled to my favourite city Figueira da Foz, with my cousins, and friends. That is always great fun.
I took these two photos in Azores.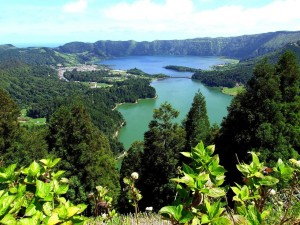 Here's a gallery of photos that will allow you to appreciate the wild beauty of Azores.